If you can't see the newsletter, please click here.
Issue 45 | September 26th, 2019
The future of Internet of Things will meet in Barcelona
The IOT Solutions World Congress will bring together next October in Barcelona 400 prestigious speakers that will share how businesses worldwide are incorporating disruptive technologies such as IoT, blockchain and artificial intelligence.

Learn how Catalonia makes businesses grow
DID YOU KNOW?

Our Supplier Search Service works for you
We can help you find industrial, technological and business suppliers in Catalonia through the Supplier Search Service. Check out the experience of Edric Group, a company from Ghana that found Catalan partners in the furnishing and decoration industry.
NEWS
Minister Chacón chairs the 60th anniversary celebration of Indian SMP's plant in Catalonia
More >>
Barcelona to host the most important seafood fair in the world
More >>
Catalan Government visits Israel to strengthen collaboration between innovation ecosystems of both territories
More >>
Catalonia and Scotland allocate up to 1.5M€ to the promotion of innovation projects between companies in both territories
More >>
Japanese group BANDAI NAMCO to establish a new company dedicated to the development of mobile games in Barcelona
More >>
US online retail company Amazon to open a new logistics plant in Catalonia
More >>
Catalonia becomes the first open 5G laboratory in Europe
More >>
OPEN CALL: Cooperate with a Catalan firm for your R&D project (Nuclis Programme)
More >>
OPEN CALL: Road to Barcelona Program for startups from Korea, Argentina and Chile
More >>
OPEN CALL: Bring your technology to the market (Tecniospring INDUSTRY Programme)
More >>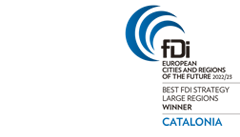 Catalonia Trade & Investment is the public agency of the Catalan Government that works to attract foreign investment to Barcelona and Catalonia, promoting the area as an attractive, innovative and competitive business location.
Recommend | Unsubscribe | Subscribe | Contact

The applicable regulations authorize our institution, the Agency for Business Competitiveness (hereinafter, "ACCIÓ"), with registered address at Passeig de Gràcia, 129, 08008, Barcelona, to send via electronic means commercial information and literature to keep you informed about the activities and services of ACCIÓ of an identical or similar nature in respect of which you have shown an interest, participated or contracted with our institution. If you do not wish to receive any further communications from our organization, you may exercise your rights of access, rectification, deletion, portability, limitation and/or opposition to the treatment of your data via the e-mail address dades.accio@gencat.cat or by sending a regular letter to the postal address indicated above.