If you can't see the newsletter, please click here.
Issue 46 | October 29th, 2019
5 reasons why Barcelona is one of the world's leading smart cities
Barcelona is a pioneer in adopting new technologies aimed at making the city more energy efficient, connected and sustainable towards mobility. The Smart City Expo World Congress will bring together all the leading experts in the sector in Catalonia next November 19th to 21st.
EXPANDING BUSINESS IN CATALONIA
Catalonia presents its investment opportunities to Italian investors in Turin
Catalonia concentrates 34% of total investment from Italian companies in Spain. With 749 subsidiaries, Italy is the fourth country of origin of foreign companies established in Catalonia. Smart city startup Enerbrain and automotive firm Applus Idiada shared their experiences with Italian companies interested in doing business in Catalonia.

Learn how Catalonia makes businesses grow
DID YOU KNOW?

NEWS
Videogame company King opens new headquarters in Barcelona with 600 employees and capacity to increase workforce by 10%
More >>
American company Printful opens new fulfillment center in Barcelona and creates 60 new jobs
More >>
American company AAM opens new production plant in Catalonia with 300 employees
More >>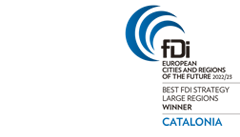 Catalonia Trade & Investment is the public agency of the Catalan Government that works to attract foreign investment to Barcelona and Catalonia, promoting the area as an attractive, innovative and competitive business location.
Recommend | Unsubscribe | Subscribe | Contact

The applicable regulations authorize our institution, the Agency for Business Competitiveness (hereinafter, "ACCIÓ"), with registered address at Passeig de Gràcia, 129, 08008, Barcelona, to send via electronic means commercial information and literature to keep you informed about the activities and services of ACCIÓ of an identical or similar nature in respect of which you have shown an interest, participated or contracted with our institution. If you do not wish to receive any further communications from our organization, you may exercise your rights of access, rectification, deletion, portability, limitation and/or opposition to the treatment of your data via the e-mail address dades.accio@gencat.cat or by sending a regular letter to the postal address indicated above.