If you can't see the newsletter, please click here.
Issue 48 | December 19th, 2019
12 reasons to invest in Catalonia
As 2019 is coming to an end, we look back on what the year has brought to Catalonia and Barcelona with 12 leading stakeholders and their reasons why they decided to set up operations here. Happy reading, and happy holidays!

Coming to the Mobile World Congress 2020?
We'll help you out organising your personalised MWC agenda
DID YOU KNOW?

NEWS
XPO Logistics to expand services in Catalonia with new distribution site
More >>
Seat breaks sales record for second year in a row
More >>
IESE and ESADE in the top 15 business schools in Europe, according to Financial Times
More >>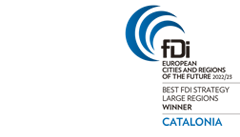 Catalonia Trade & Investment is the public agency of the Catalan Government that works to attract foreign investment to Barcelona and Catalonia, promoting the area as an attractive, innovative and competitive business location.
Recommend | Unsubscribe | Subscribe | Contact

The applicable regulations authorize our institution, the Agency for Business Competitiveness (hereinafter, "ACCIÓ"), with registered address at Passeig de Gràcia, 129, 08008, Barcelona, to send via electronic means commercial information and literature to keep you informed about the activities and services of ACCIÓ of an identical or similar nature in respect of which you have shown an interest, participated or contracted with our institution. If you do not wish to receive any further communications from our organization, you may exercise your rights of access, rectification, deletion, portability, limitation and/or opposition to the treatment of your data via the e-mail address dades.accio@gencat.cat or by sending a regular letter to the postal address indicated above.