If you can't see the newsletter, please click here.
Issue 51 | April 23rd, 2020
Keeping international companies updated on COVID-19 in Catalonia
Our staff at Catalonia Trade & Investment sincerely hopes that all our client companies and partners are staying healthy and safe during these unprecedentedly challenging times. We remain open virtually to assist you and have set up a specific website on the effects of coronavirus in Catalonia that is being updated constantly.
NEWS
Japanese automotive Nissan begins respirator production in Barcelona plant
More >>
GSMA extends Mobile World Congress Barcelona agreement until 2024
More >>
Video game company IGG donates 250,000 masks to Barcelona's Hospital Clínic
More >>
The Government of Catalonia allocates €4M to fund 19 research projects to fight COVID-19
More >>
Catalan researchers help identify a drug that blocks the effects of SARS-Co-V2
More >>
New 3D respirators made in Catalonia, ready to be used at ICUs
More >>
The Port of Barcelona reduces import container fees to help ease the economic impact of COVID-19
More >>
Catalan consortium to develop antibodies, drugs and a vaccine against coronavirus
More >>
Catalan company Grifols announces collaboration with US Government to produce the first treatment specifically targeting COVID-19
More >>
Catalonia leads a European project to diagnose the COVID-19 disease in 30 minutes
More >>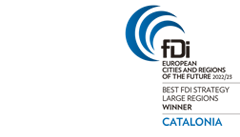 Catalonia Trade & Investment is the public agency of the Catalan Government that works to attract foreign investment to Barcelona and Catalonia, promoting the area as an attractive, innovative and competitive business location.
Recommend | Unsubscribe | Subscribe | Contact

The applicable regulations authorize our institution, the Agency for Business Competitiveness (hereinafter, "ACCIÓ"), with registered address at Passeig de Gràcia, 129, 08008, Barcelona, to send via electronic means commercial information and literature to keep you informed about the activities and services of ACCIÓ of an identical or similar nature in respect of which you have shown an interest, participated or contracted with our institution. If you do not wish to receive any further communications from our organization, you may exercise your rights of access, rectification, deletion, portability, limitation and/or opposition to the treatment of your data via the e-mail address dades.accio@gencat.cat or by sending a regular letter to the postal address indicated above.