If you can't see the newsletter, please click here.
Issue 52 | May 28th, 2020
Fighting Covid-19 from Catalonia's life sciences hub
A world-class network of medical institutions, hospitals, research centres, healthcare multinationals and pharma companies have all made Barcelona and Catalonia a leading life sciences hub. Fighting Covid-19 has been a top priority from minute one.
JOSUÈ SALLENT, DIRECTOR AT ICT HEALTH SOCIAL FOUNDATION
"Catalonia is home to Europe's largest medical imaging bank"
Catalonia hosts the biggest and most comprehensive database in Europe in medical imaging, making it the place to be for digital health. Josuè Sallent explains that the early adoption of new technologies has turned Catalonia into a pioneering European health system.
CATALAN TECHNOLOGY TO FIGHT COVID-19
Eurecat and Leitat: R&D made in Catalonia
Catalonia received the highest number of R&D investment projects in 2019 in all Continental Europe, according to fDi Markets. Eurecat and Leitat technology centres are key players in Catalonia's R&D environment and have been tirelessly working in innovative projects to help fight Covid-19.
DID YOU KNOW?
Catalogue of Solutions for Covid-19
Catalonia Trade & Investment has drawn up a Catalogue of Solutions for Covid-19, a selection of companies and proposals within Catalonia that have developed solutions to deal with the health crisis and that all have export capacity.
NEWS
Grifols takes part in Microsoft-backed project to use plasma in new Covid-19 therapies
More >>
Guide: Aid for productive activity and employment to counter the effects of coronavirus
More >>
Catalonia to connect with world's second longest fiber optic submarine cable
More >>
Catalonia leads a pioneering research on how Covid-19 affects the elderly
More >>
BSC uses bioinformatics, artificial intelligence and its MareNostrum supercomputer in the fight against coronavirus
More >>
Catalan clusters work on specific projects to fight Covid-19
More >>
Eurecat wins European hackathon with project to predict Covid-19 outbreaks through wastewater analysis
More >>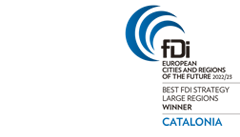 Catalonia Trade & Investment is the public agency of the Catalan Government that works to attract foreign investment to Barcelona and Catalonia, promoting the area as an attractive, innovative and competitive business location.
Recommend | Unsubscribe | Subscribe | Contact

The applicable regulations authorize our institution, the Agency for Business Competitiveness (hereinafter, "ACCIÓ"), with registered address at Passeig de Gràcia, 129, 08008, Barcelona, to send via electronic means commercial information and literature to keep you informed about the activities and services of ACCIÓ of an identical or similar nature in respect of which you have shown an interest, participated or contracted with our institution. If you do not wish to receive any further communications from our organization, you may exercise your rights of access, rectification, deletion, portability, limitation and/or opposition to the treatment of your data via the e-mail address dades.accio@gencat.cat or by sending a regular letter to the postal address indicated above.