If you can't see the newsletter, please click here.
Issue 79 | November 29th, 2022
Introducing the new catalonia.com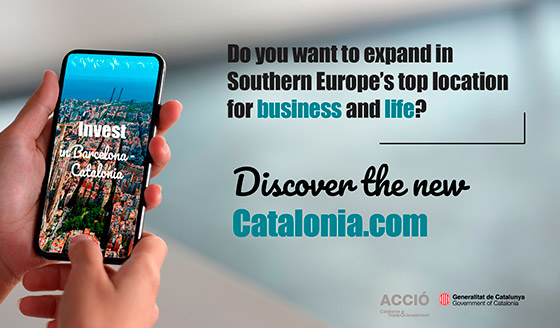 The new catalonia.com is your destination for everything you need to invest in Barcelona-Catalonia.

Browse. Compare to other locations in Europe. See other top players that are already investing in Catalonia.

And let us help you settle in Barcelona-Catalonia.

Are you thinking about expanding or relocating in Europe?
Come to Barcelona & Catalonia,
Southern Europe's hub for business and life.
DID YOU KNOW?

NEWS
Catalan companies have 8,382 subsidiaries abroad, 3% more than before the Covid pandemic
More >>
Sanofi to invest more than 15 million euros in three years in its factory in Catalonia
More >>
German multinational Bayer consolidates its growth in Catalonia with the creation of 100 new jobs in 2022
More >>
Minister Torrent: "The ILJIN Materials investment project in Catalonia will play a key role in establishing our technological sovereignty"
More >>
The pharmaceutical company Galenicum invests 10MEUR in opening a new R&D center and offices in Barcelona
More >>
Smart city companies in Catalonia grow by 7.3%
More >>
AGENDA
IBTM World
November 29 - December 1, 2022
Barcelona
4YFN
February 27 - March 2, 2023
Barcelona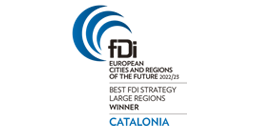 Catalonia Trade & Investment is the public agency of the Catalan Government that works to attract foreign investment to Barcelona and Catalonia, promoting the area as an attractive, innovative and competitive business location.

Recommend | Unsubscribe | Unsubscribe from all commercial activity from ACCIÓ | Contact

The applicable regulations authorize our institution, the Agency for Business Competitiveness (hereinafter, "ACCIÓ"), with registered address at Passeig de Gràcia, 129, 08008, Barcelona, to send via electronic means commercial information and literature to keep you informed about the activities and services of ACCIÓ of an identical or similar nature in respect of which you have shown an interest, participated or contracted with our institution. If you do not wish to receive any further communications from our organization, you may exercise your rights of access, rectification, deletion, portability, limitation and/or opposition to the treatment of your data via the e-mail address dades.accio@gencat.cat or by sending a regular letter to the postal address indicated above.